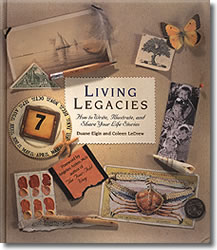 LIVING LEGACIES: How To Write, Illustrate, & Share Your Life Stories
DESCRIPTION, REVIEWS, AND TABLE OF CONTENTS
By Duane Elgin & Coleen LeDrew Elgin (Angeles Arrien , foreword)
January 2001, Conari Press
DESCRIPTION:
Living Legacies is a guide to recording, illustrating, collecting, and preserving your life stories. Whether you already have a folder full of family stories or are mystified about what your stories might be, Living Legacies can help you. The book is full of ideas for uncovering seeds for stories in your life and includes a simple process for writing them. What makes Living Legacies unique is that it brings together recording short stories with photographs and images. You'll learn techniques for crafting you're visual as well as written story. Thoughtful questions will help draw out your stories and those of your family and friends.
Whether you ultimately create a scrapbook of your own stories, a collection of stories with your family, or just one story for a special occasion, you will have created a priceless treasure that will become even more cherished as the years go by.
Here is what you will find in Living Legacies:
A simple seven-step process for writing your life stories including an example story that follows the seven steps.
Two different approaches to crafting your illustrated story: the collage method and the simple text and photo layout. We spell out a process for creating your visual story and show you with examples that use photographs, mementos, images, drawings, borders, special papers, and more.
A dozen topics that will help you probe for stories from childhood, nature's gifts, small miracles, loves of your life, and more.
Plus two fun activities: Creating a Time Line of Your Life and how to make a unique Family Tree with examples. Also included are tips for interviewing family and friends and a wide range of questions that can uncover stories.
We have included suggestions for materials and tools you may need to create illustrated stories such as scrapbooks and acid-free supplies, plus options for using a computer and a helpful resources section.
There are illustrated stories sprinkled throughout the book that show different writing styles, illustration techniques, and topics. These stories will inspire you to create your own!
Finally this book is a unique gift. You can use it to encourage loved ones to begin recording the tales from their lives and to start a storytelling circle.
REVIEWS:
Review by Craig Richards, Publisher, FamilyReunion.com
YOU'VE LIVED IT. NOW TELL YOUR SIDE OF THE STORY
According to Duane Elgin and Coleen LeDrew, experts in the growing field of chronicling personal and family histories, storytelling is "the oldest teaching and healing art."
I love a good story! In fact, some of my favorite books are biographies.
When I read my grandmother's notes she was preparing for her own life story, I could see her life from a very unique viewpoint: hers. And the more I understand about the inner workings of others, the more sense I can make of my own quirky style and offbeat genius!
I can imagine what someone three or four generations downline might write about me: My hopes, dreams, talents and passions, struggles and triumphs — all reduced to a sentence of facts and statistics?
So, yes. When it comes to telling my story, I'd like at least some input, thank you. So how do I chronicle? Where do I begin? The beginning?
Through their newly released book, Mr. Elgin and Ms. LeDrew took me on a guided tour of the whole process, patiently drawing me from the first through each successive step.
I am impressed that each beautifully illustrated page of their Living Legacies: How to Write, Illustrate, and Share Your Life Stories appears skillfully handcrafted with a loving balance of light, shadow, color, hue, scale, shape and texture. The book itself is an inspiring keepsake!
Its 240 pages brimming with anecdotes and examples, this tutorial goes further by demonstrating the process rather than simply showing the polished result. It is painless learning thanks to serious instruction punctuated liberally with light humor.
The authors have thoughtfully included websites for getting archival materials and other online resources for research, ideas and inspiration, as well as a helpful list of other publications to help you take that first step to telling your life story.
My thanks to Duane Elgin and Coleen LeDrew for making the idea of recording my own life story actually seem accessible. With their help, you'll feel inspired to tell your side of the story.
Review by New Horizons for Learning www.newhorizons.org
This new book on writing life stories will be useful not only to parents and grandparents who may wish to leave an autobiographical legacy to their children and friends, but also for teachers to use as a colorful and effective guide for their students' biographical writing projects. It covers why such a project is so important to families, how one might begin, writing tips, where to collect stories, how to illustrate them, and a useful resource guide. The book is filled with beautiful anecdotes and examples, and will surely be a springboard for those who are ready to dive into such a project, but may need the help this book offers.
ABOUT THE AUTHORS
Duane Elgin (click for detailed information)
Coleen LeDrew Elgin (click for detailed information)
Birgit Wick (book designer) has always loved to spend hours in bookstores, whether it was back in her home country Germany or now in her new home, the San Francisco Bay Area. To discover beautifully crafted bibliophilic treasures remains an ongoing passion. Her lifelong study of art, design, philosophy, and communication led her into her profession as a graphic designer and expressive arts educator. When Divas Confess – Opera Singers in Their Leading Roles was the first book she designed in the United States.
LIVING LEGACIES:
Table Of Contents
Foreword by Angeles Arrien
Chapter 1
Why Create Stories?
Story: "Remembering Merke"
Creating Your Life Stories
Our Approach to Recording Stories
A life story can be short and simple
A life story can recreate the experience
A story is a journey
The Purpose of This Book
Chapter 2
How to Begin
Making Time for Your Stories
Why Create This Story?
How to Include Your Family and Friends
Join with others who are creating stories
Create a book of stories with others
Invite family and friends
to create stories for your collection
How to Keep Track of Your Ideas
How to Record Your Stories
Scrapbooks
Acid-free materials
Audio and videotapes
Supplies for the scrapbook approach
Using a computer
Chapter 3
Creating Your Time Line
Example Time Line: "Genevieve Shannon Tyler"
Chapter 4
Writing Your Life Stories
Finding Your Voice and Style
Making It Personal
Choosing a Topic
Allow Your Story to Blossom
There's a First Time for Everything
Putting Pen to Paper
Step One: Visualize the story
Step Two: Create a first draft
What to Do if You're Stuck
Step Three: Reveal the essence
An Early Draft of Elaine's Story
Step Four: Add details that give life to your story
Step Five: Trim your story
Elaine's Revisions of Her Story
Step Six: Ask a friend for feedback
Step Seven: Completing your story
Story: "Beach Blush"
Chapter 5
Discovering Your Life Stories
My Childhood
Story: "Saving Jenny"
People Who Have Inspired Me
Animal Friends
Story: "Our Dog Ziggy"
Loves of My Life
Home Sweet Home
Story: "Dear Emma and Ryder"
Nature's Gifts
Story: "June Snow in the Sierra"
Unforgettable Memories
Story: "When Daddy Died"
Heart Openings
Story: "Soulful Eyes in São Paolo"
Small Miracles
Moments of Awakening
Story: "My Life-Changing Experience"
Chapter 6
Collecting Life Stories
Exploring My Family History
Recording family stories
Creating a family tree
Example: "The Carreño Family Tree"
Story: "Herein Lies Forgiveness"
Interviewing Family and Friends for Great Stories
Remembering a Child's Life
Record the story of your child's birth
Recount first times
Interview a child or teenager
Have a child create a story
Story: "For Isabel: The Story of Your Birth"
Honoring a Special Person
Chapter 7
Illustrating Your Life Stories
Seven Steps in Creating an Illustrated Story
Step One: Do a preliminary search for visual materials
Step Two: Notice the images and feelings
that the story elicits
Step Three: Generate ideas with others for
communicating the story visually
Step Four: Choose a visual theme
Step Five: Select materials
The Importance of Acid-Free Materials
Step Six: Create a layout
Step Seven: Complete your illustrated story
Suggestions for Working with Photographs
Cropping photographs
Framing photographs
Creating captions
Working with old photos
Basic Guidelines for Simple Text and Photo Layouts
Sample I: A One-Page Collage with a Historical Theme
Story: "Of Cod and Men"
We did a preliminary search for materials
We generated ideas
We chose a visual theme
We selected materials
We created the layout
Sample Collage: "Of Cod and Men"
Illustration: Photographs used in "Of Cod and Men"
Instructional Example: "Of Cod and Men"
Sample II: A Collage with Artifacts
Sample Collage: "My Time in Vietnam"
Instructional Example: "My Time in Vietnam"
Sample: III: A Two-Page Collage with Playful Theme
Sample Collage: "Playing Boat"
Instructional Example: "Playing Boat"
Chapter 8
Your Legacy
Questions for Considering Your Legacy
A Letter to Future Generations
Chapter 9
Resource Guide
Types of Scrapbooks
Three-ring binder
Scrapbook with removable pages
Bound scrapbook
Preserving Your Scrapbook
Distributors of Acid-Free Supplies and Materials